Sea Shepherd Dive and Princess Divers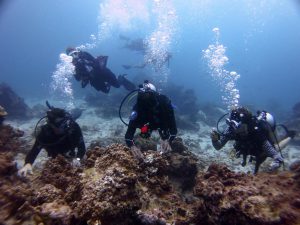 New and exciting from 2016 is our membership to the new Sea Shepherds Dive Center campaign, Princess Divers is proud to be one of the first Sea Shepherd Dive members in Thailand and we will be the first Dive Center in Thailand to start teaching the new Sea Shepherd Coral Propagation Course for qualified Divers which offers exciting new advances in knowledge and techniques for restoring and replanting corals that have been broken or damaged.
After receiving exclusive access to Mosquito Island from the Thai National Parks research department, Princess Divers in partnership with Ocean Quest, National Parks and Sea Shepherd Dive will be starting a new project to try and restore this closed Island to its former glory, we plan to start this project in November 2016
Sea Shepherd Dive
Sea Shepherd Dive has been developed to provide a 'support and report' network
to enable the dive community to get involved with Sea Shepherd and its worldwide mission to stop poachers and illegal operations that are destroying our marine environment. Through the Sea Shepherd Dive website, divers and dive operators can report environmental crimes that they witness while diving, anywhere around the world.
Through it's partnership with Ocean Quest, Sea Shepherd Dive partners will be also entitled to run environmental training programs that support Sea Shepherd's mission to defend, conserve and protect our oceans, teaching individuals how to take 'direct action' against threats to our marine environment.
---
Sea Shepherd's Mission Statement
"Sea Shepherd is a non-profit conservation organisation whose mission is to end the destruction of habitat and slaughter of wildlife in the world's oceans in order to conserve and protect ecosystems and species.
Sea Shepherd uses innovative direct-action tactics to investigate, document and take action when necessary to expose and confront illegal activities on the high seas. By safeguarding the biodiversity of our delicately balanced oceanic ecosystems, Sea Shepherd works to ensure their survival for future generations."
Our History
Sea Shepherd Conservation Society was formed in 1977 by Captain Paul Watson, a world-renowned leader in environmental issues and co-founder of Greenpeace. The organization's aim was to take direct-action against illegal operators that were destroying the marine biodiversity of the world's oceans.
In its early years the relatively small organization made big waves challenging Soviet whalers in the Pacific, opposing the seal slaughters in Canada and chasing illegal foreign fishing vessels from the Grand Banks. Sea Shepherd was also the only organization that challenged the drift net fleets that operated out of sight and out of mind the high seas of the Pacific.
In 2005 Sea Shepherd launched its first anti-whaling campaign in the Southern Ocean to directly intervene against the illegal whale hunt of the Japanese whaling fleet. Since 1987, the Japanese whale poachers had been slaughtering whales illegally in the Southern Ocean, under the guise of 'scientific research.' Sea Shepherd's aim was simple: to sink the whaling fleet economically. With each year Sea Shepherd grew stronger, the numbers of whales killed was reduced and the profits of the whaling poachers experienced a sharp decline.
In 2014, the United Nations International Court of Justice, the highest international court, handed-down a decision that would forever change Japan's whaling program. In a 12-4 majority, the Court ruled that JARPA II was, in fact, an illegal, commercial operation and, therefore, ordered that it immediately cease.
Thanks to the direct-action efforts of Sea Shepherd, who raised the issue of Japan's illegal whaling to international attention, the 2014-15 Austral summer was the first since 1986 that the whales of Antarctica swam free without the threat of the harpoons of the Japanese whaling fleet.
In addition to whale protection campaigns, Sea Shepherd crews have worked with park rangers in Galapagos, drawn awareness to the annual dolphin slaughter in Taiji, Japan, have fought against the shark cull in Australia, have exposed the shark fin industry in Asia, have protected turtle populations in Costa Rica, and have opposed largest slaughter of marine mammals of Europe – the infamous drive hunt of pilot whales and other small cetaceans in the Faroe Islands. Today, Sea Shepherd has grown into a global movement, and now has eight vessels operating around the world.