Princess Divers is proud to welcome you aboard our fleet of 3 custom design scuba diving boats for an exciting choice of dive sites around the Phi Phi Islands and surrounding area.
We offer you the choice of morning or afternoon trips to suit your holiday schedule, Our morning Dive trips start daily at 7:30am, as early starters we are usually rewarded by being first to the dive sites, allowing much quieter dives and the best chance of seeing some of the reefs more elusive inhabitants such as Reef Sharks. Our afternoon trips start at 13:30PM and offer you the chance to relax and lie in, giving the chance for a stunning sunset on the trip back to the Island after the last dive.
As you board our local dive boat our Captain and crew will welcome you aboard, tea/coffee and fresh fruit also await you. Time to the first dive site is 20 mins, with all equipment taken care for by our dive staff you can sit back relax and enjoy the beautiful scenery. For those travelling on our speedboats to outer dive sites like Shark Point, Hin Daeng and Hin Muang, sit back relax and let our captain speed you at 30 knts through the Andaman Sea to Southern Thailand's best dive sites. Once you arrive at the dive site it's time to explore Thailand's spectacular underwater world. In small groups our professionally qualified and experienced dive staff will lead you on a tour through beautiful coral gardens hosting an amazing variety of tropical marine life.
---
Phi Phi National Park
Minimum level: Open water diver
Trip includes 2 dives
Includes full dive equipment rental
Beverages and a light meal are provided between dives
Wreck Dive
Minimum level: Advanced or Open Water with an Instructor (add 600THB)
Maximum depth: 25 m
Trip includes 2 dives, 1 wreck 1 National Park
Includes full dive equipment rental
Beverages and a light meal are provided between dives
Hin daeng/Hin Muang
Minimum level: Advanced or Open Water with an Instructor (add 1000THB)
Maximum depth: 25 m
Trip is for 2 dives 1 in His Daeng 1 in His Muang
Includes full dive equipment rental
Beverages and a light meal are provided between dives
Night Dive
Minimum level: Advanced or Open Water with an Instructor (add 500THB)
Maximum depth: 25 m
Includes full dive equipment rental
Torch included
Join more than 3 of our dive trips and get 10% discount on all of them!
The Department of National Parks of Thailand will be charging an entry fee and diving fee to divers, which will be collected at the pier before getting on our dive boat. The following fees will apply: First Day diving: 400 baht entry fee + 200 baht diver's fee (Total one day only: 600 baht) 2nd Day diving: 200 baht diver's fee 3rd day diving: 200 baht diver's fee Our prices do not include the National Park fees.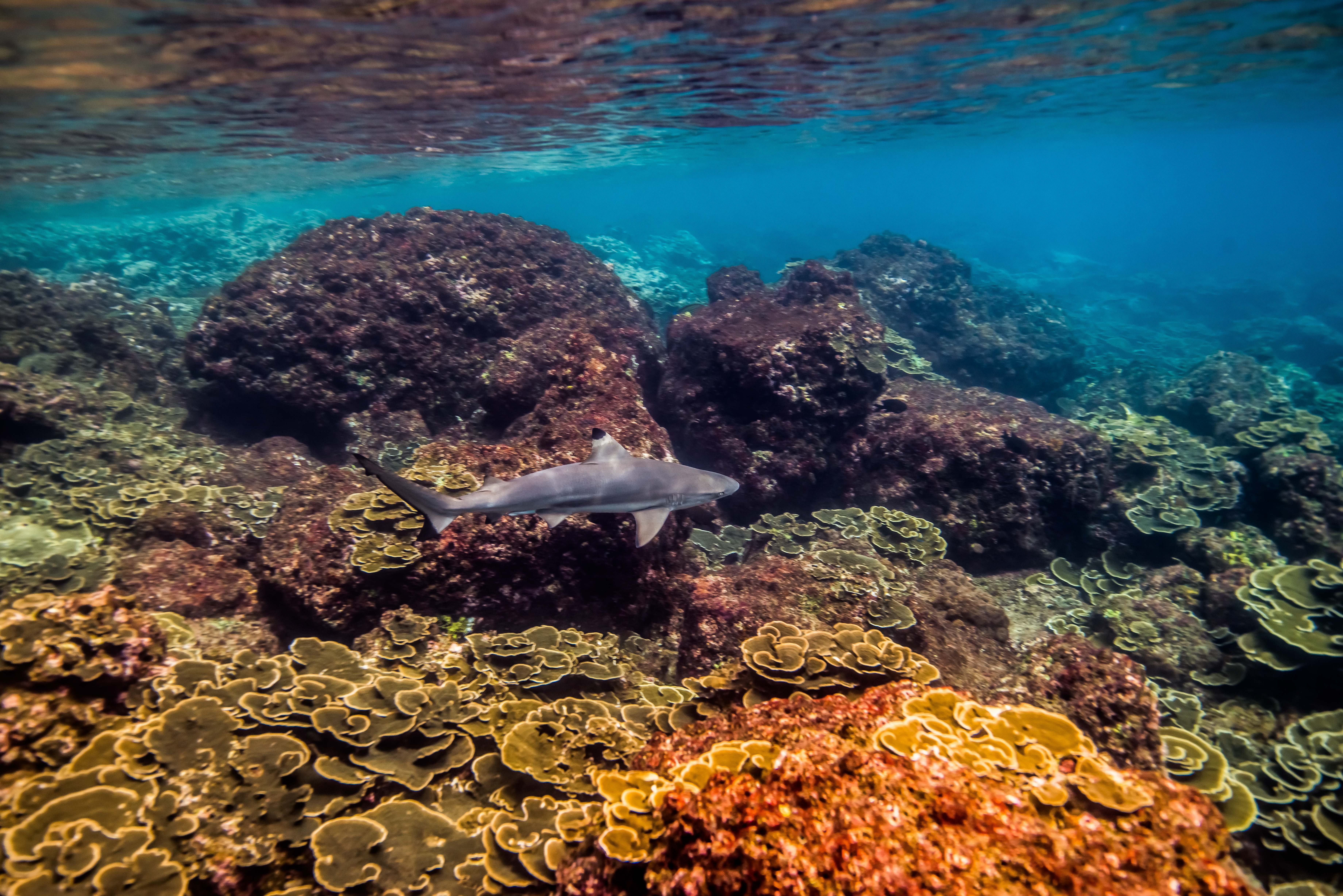 Phi Phi National Park 2500 THB
The Phi Phi National Park area or "local" dive sites due to there close proximity to the main Island is made up from Phi Phi Leh and the Bida Islands that lie just a kilometre further South. There are over 20 different dive sites to choose from in this area, making a great variety of dive trips to suit every level of diver. Underwater the dive sites vary dramatically from shallow sandy bottoms with scattered rocks and boulders covered in several types of hard and soft corals to wall dives where colourful soft branch corals cling to the rock surface. With caverns and swim through's also found here to compliment the reefs and corals on offer around Phi Phi Leh and Bida Islands. The highlight of any dive on these Islands is without doubt the frequent encounters with Blacktip Reef sharks and Hawksbill Turtles, which allow diver's a close up view as they carry on with their daily routine. Divers that look closely into crack's and crevice's can be rewarded with sightings of Sea Horse's, Ghost Pipefish and the timid Yellow Boxfish. Different species of Angel Fish and Butterfly Fish can be found in abundance on the reefs offering excellent photographic opportunities.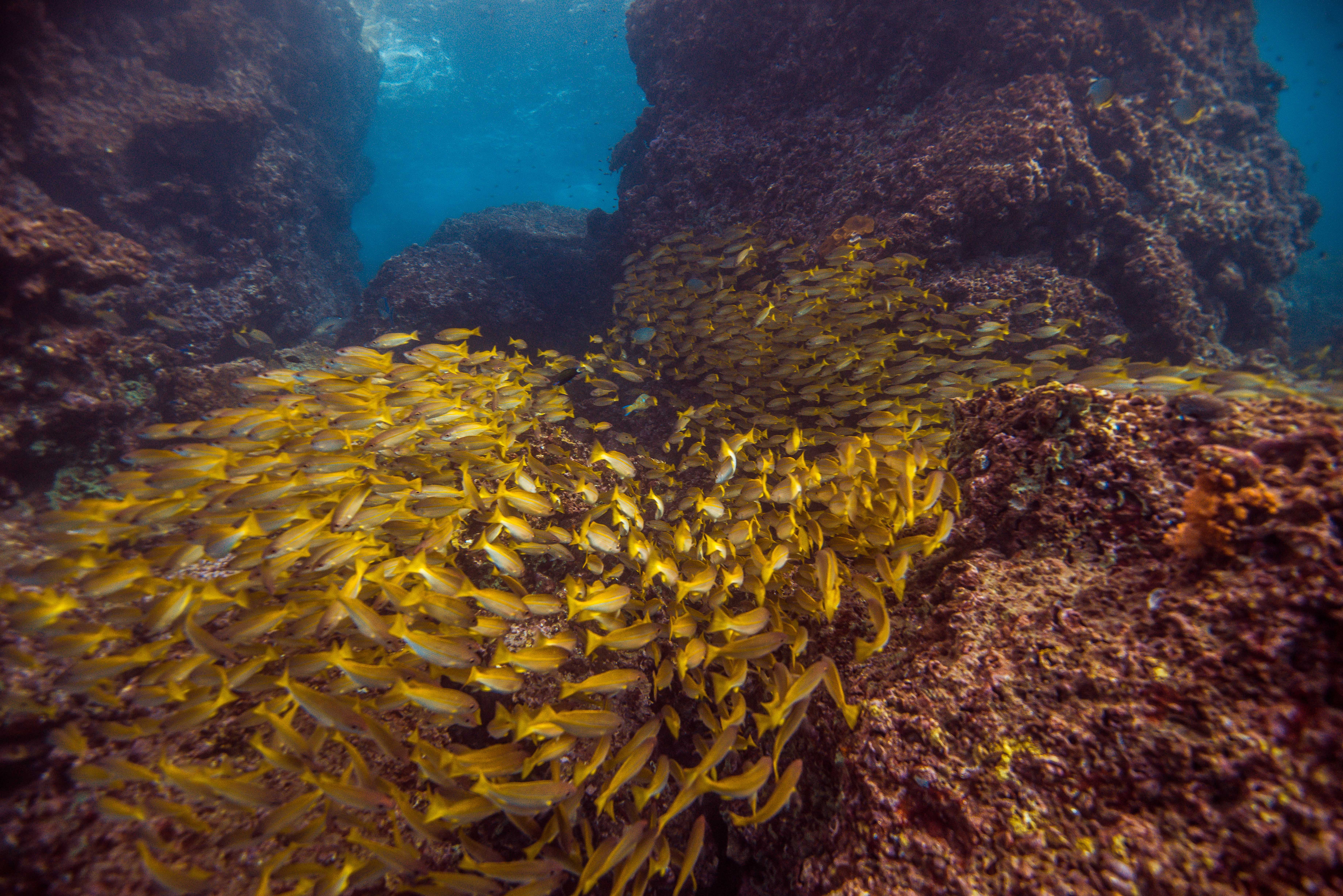 Every morning and afternoon
The diversity of topography, corals and marine life make these dive sites a must for any visiting diver. Big schools of trevally and snappers can be found all around the Islands and sightings of the occasional Whale Shark keep divers glancing into the blue in the hope of that once in a lifetime encounter. reefs around these Islands offer diving opportunities for all levels of divers, with lots of shallow reefs suitable complete beginners that slowly descend deeper as you get away from the Island, experienced divers will be equally thrilled with the dive sites here that go down to around 25 meters, but the vast majority of the corals here are found in the 5-15 meter range giving everyone the chance of longer dives to take it all in.Journey time of 20 mins by our main Dive Boat Suitable for all levels including beginners Over 20 Dive sites to choose from.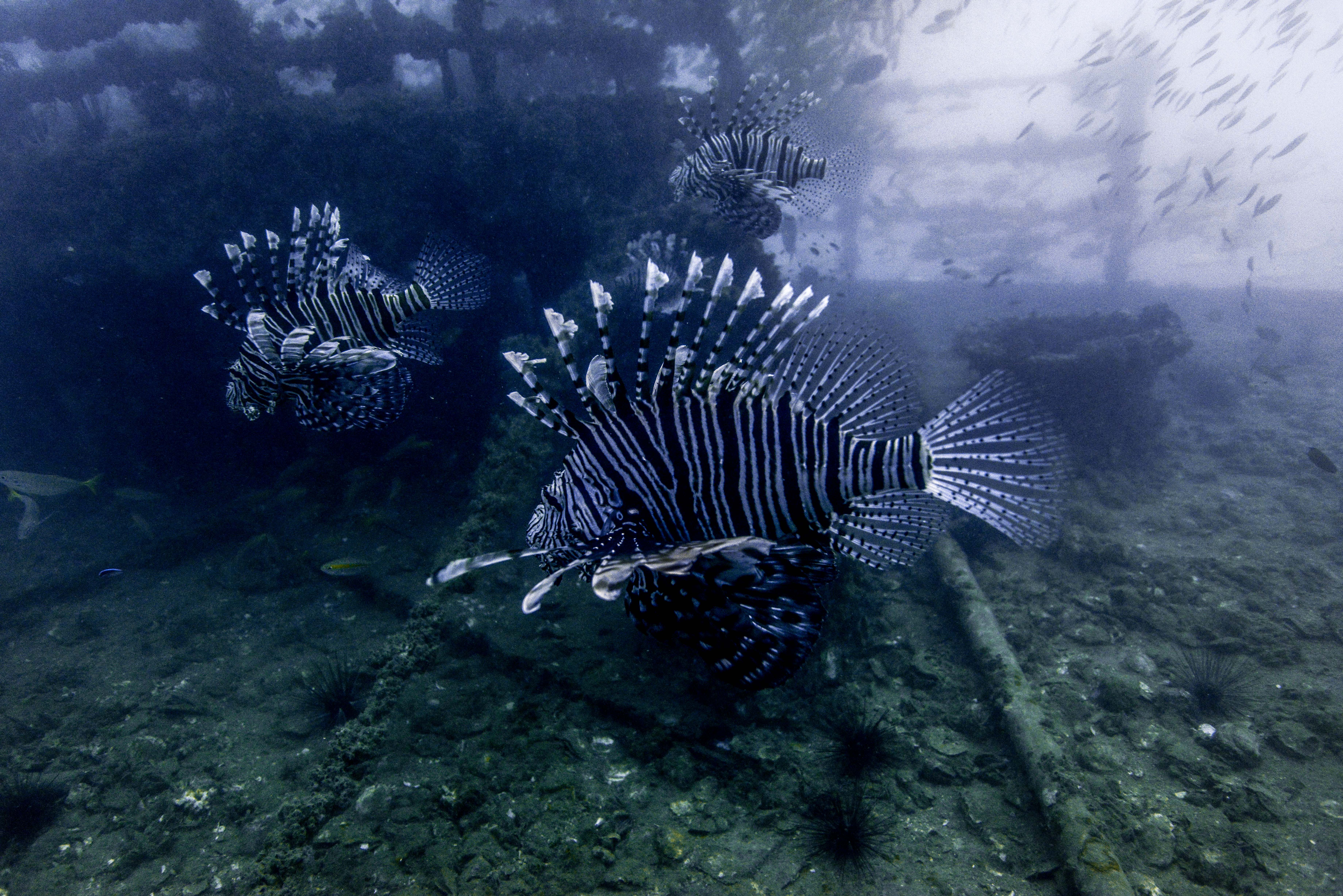 Kled Kaew wreck dive
On the 19th March 2014 the ex Navy Gunship the Kled Keaow was purposely sank by the Thai Government to create a new artificial reef located close to Phi Phi Leh. The location of the wreck allows us to dive this hugely popular dive site all year round. Within less than a year a huge variety of marine life had moved in and set up home on this ex navy ship and some days the wreck can barely be seen from above due to the huge schools of fish circling above it. The top of the tower is roughly around 14-16 meters deep depending on the tides, and the main deck sits around 20 meters with the boat resting on the bottom at around 28 meters. This dive is only suitable for qualified divers with an advanced certification or higher to dive it, if you currently hold an Open Water certification you can choose to Dive with one of our Instructors to complete an adventure deep dive and take your first step towards becoming and Advanced diver. Journey time 10 minutes Deep Dive not suitable for beginners Every day at 7:30am Small groups with maximum of 4:1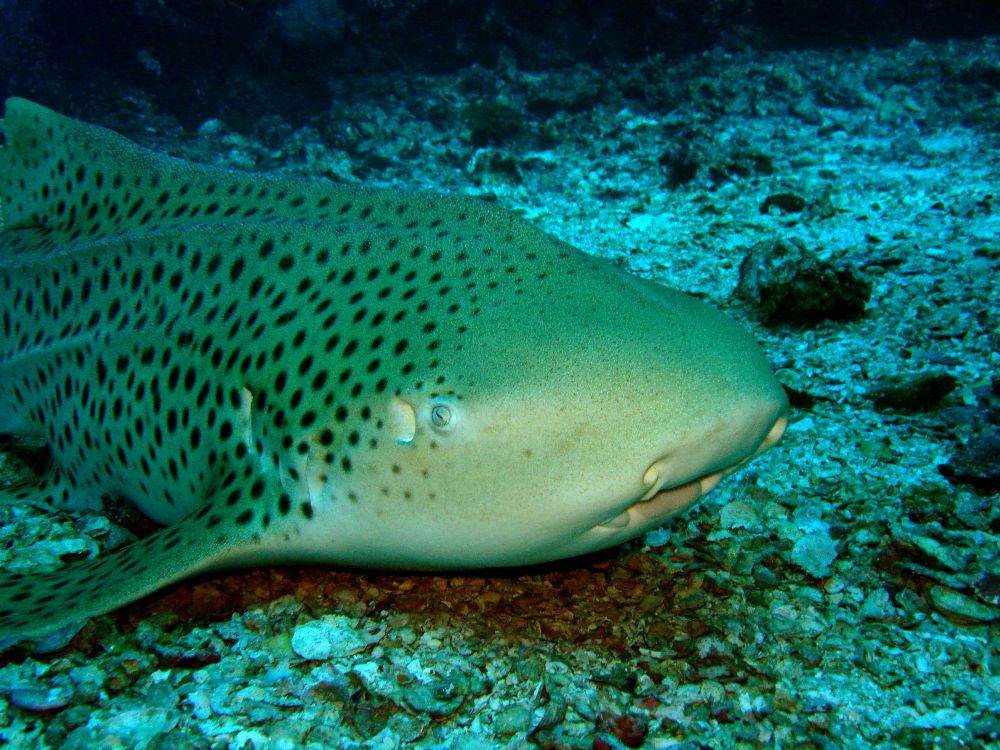 Shark Point Phi Phi/ Garang Haeng
Phi Phi Shark point is one of our most popular Dive trips for qualified divers and without doubt the best chance in all of Thailand to see the beautiful Leopard Shark which can usually be found here resting on the bottom sleeping, waiting for nightfall to start it's daily hunt for crabs and shellfish. Shark Point is located 20 minutes away from the Islands by our Speedboat. With a maximum depth of 18 meters this dive site is suitable for all qualified divers holding an Open Water licence or higher. We normally make the 2nd dive back on Phi Phi Leh with the hope of adding more sharks to the day's sightings with the Blacktip Reef Sharks Journey time 20 minutes by Speedboat Suitable for Open Water Small groups with maximum of 4:1 Can be dived year round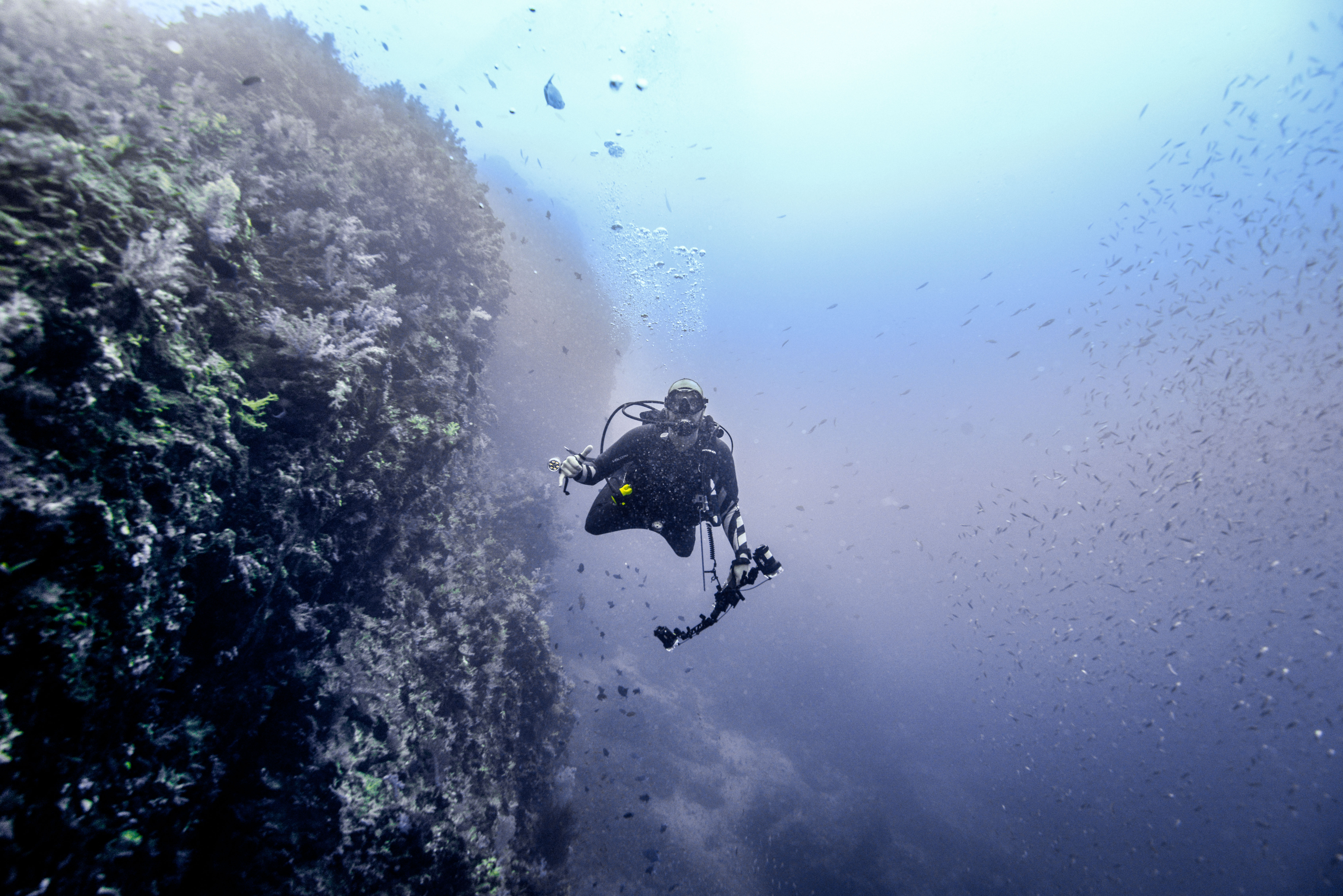 Hin daeng/Hin Muang
Hin Daeng & Hin Muang These two five star underwater mountains lie in the open ocean, 60 Km's south from the Phi Phi Islands and are accessible by our speedboat with a journey of just over one hour. These two sites are constantly rated among the best dive sites in the Asia due to the diverse nature of marine life and corals found here, but it is diving with Manta Rays and Whale Sharks that make these two sites so popular. This amazing Dive Site is only open during high season months from November to April by order of the Thai National Parks department. We run this trip 2 or 3 times per week on our own Speedboat the "Manta Princess" Hin Daeng stands proud in the open ocean by a mere 2 meters from the surface and translated into English means "Red Rock", this name is due to the abundance of beautiful red coloured soft corals that cover the dive site. For those who love deep wall diving this is Thailand's best, the southern side descends almost straight down to beyond 60 meters, forming the mostdramatic vertical drop off in Thai waters. Occasional sightings of grey reef sharks patrolling the deep blue, and frequent sightings of giant Manta Rays gracefully gliding around the reef are what make this dive site so popular with experienced divers. Closer to the top of the reef in the shallows a school of friendly Batfish accompany you on your safety stop.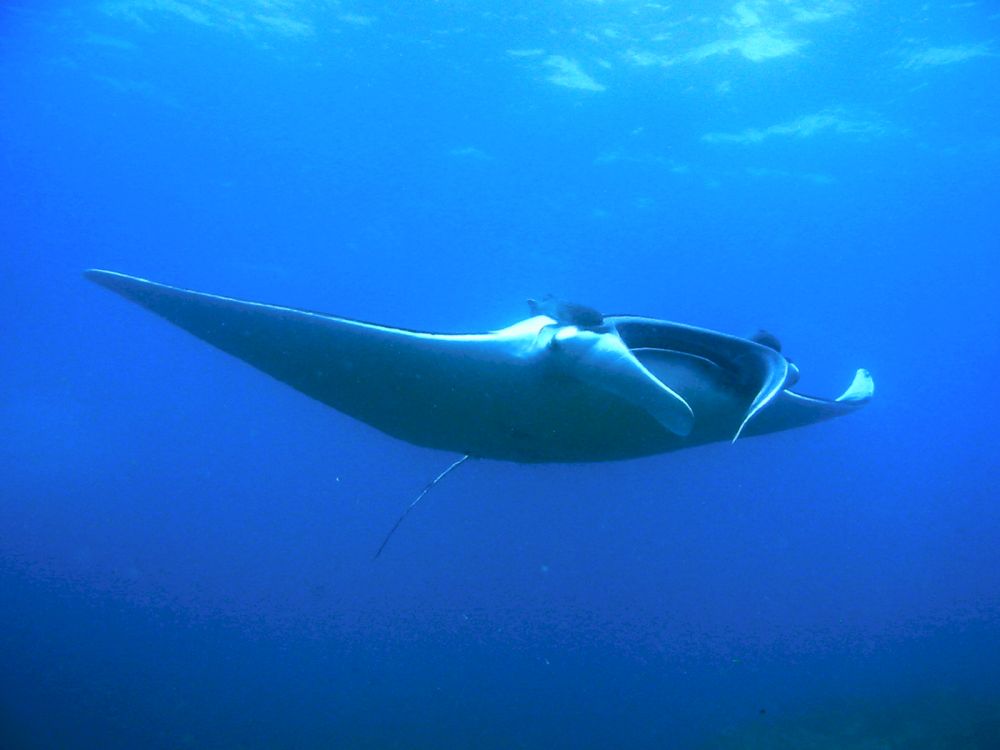 Dive with the big fish
Hin Muang sits submerged and starting at a depth of 8 meters the huge underwater pinnacle can be likened to the famous "Ayers Rock" in Australia. The name Hin Muang translated means Purple Rock derived from the thick growth of purple soft coral that covers nearly every available surface. Huge Moray Eels can be found hiding around the reef, in the blue large schools of pelagic fish such as Tuna, Barracuda and Trevally regularly invade the reef in quick charges in search of prey. Whale Sharks and Manta Rays are regular visitors to this area, these majestic giants often allow divers to get quiet close providing magnificent photos and memories. These two dive sites are a must for any experienced diver visiting Thailand and are regularly regarded as the number one dive site in Thailand for Whale Sharks and Manta Ray sightings. Due to their location in the open ocean and deep depths these dive sites are only recommended for divers holding an Advanced or higher level of certification. Journey time 1 hour 15 minutes by speedboat Deep Dive suitable for Advanced Divers 3 days per week between Nov – April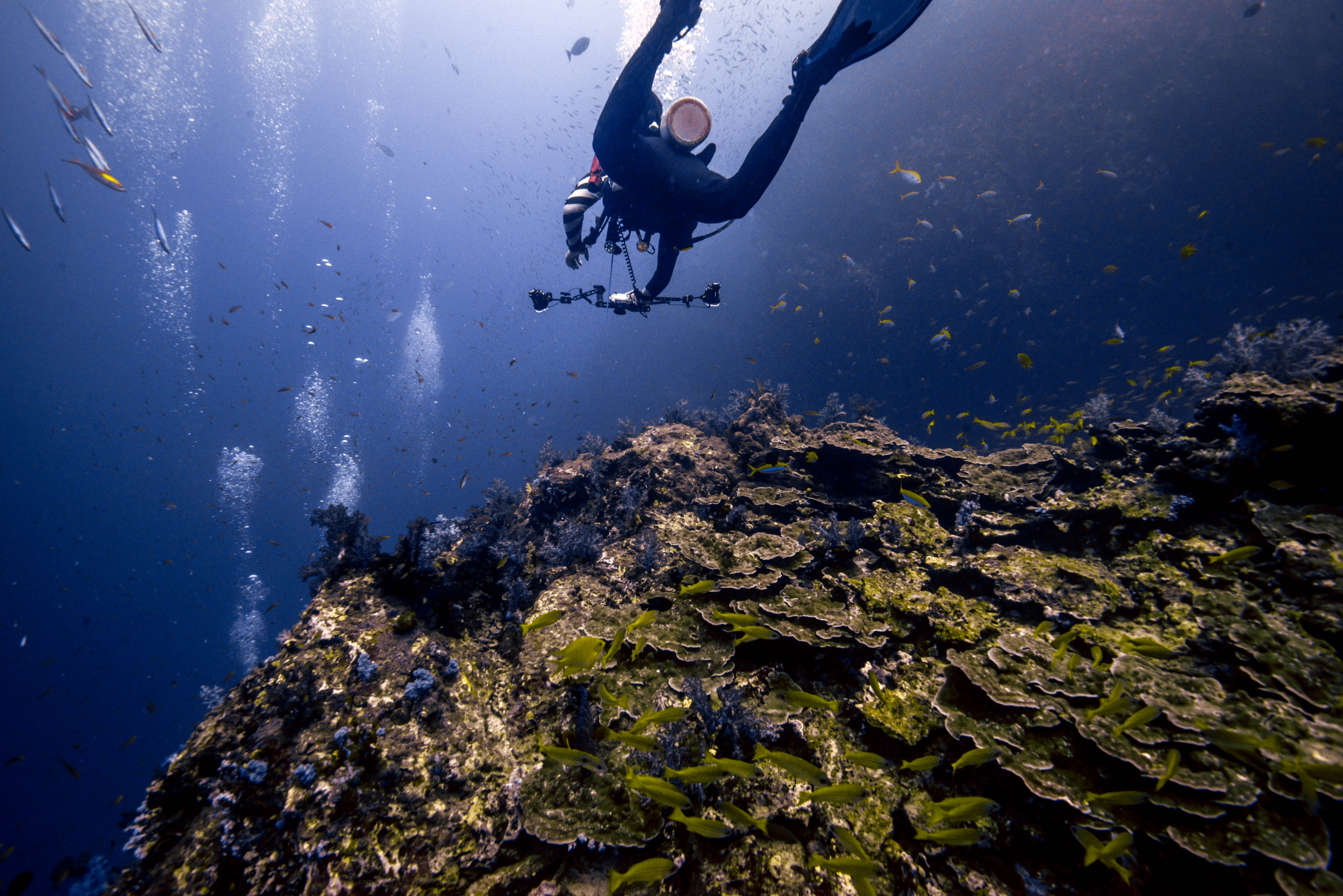 Night dive
Experience the magic of Phi Phi Islands stunning coral reef's by torchlight, the underwater world changes as the sun goes down and a whole new Diving experience awaits you, the marine life changes as some of the reefs inhabitants go to sleep, whilst others seek shelter amongst the coral and rocks. Other's like Moray Eel and Barracuda use the cover of darkness to hunt for food. Following the contour of the reef by torchlight gives you a whole new feeling and a chance to find new species that are not seen on daytime dives. Whether it's your first time or you are an experienced Diver, the chance to see the Phi Phi underwater world by torchlight is too good an opportunity to miss whilst staying on the Island. Journey time 10 minutes Not suitable for beginners 3 times weekly at 6:30pm Small groups with maximum of 4:1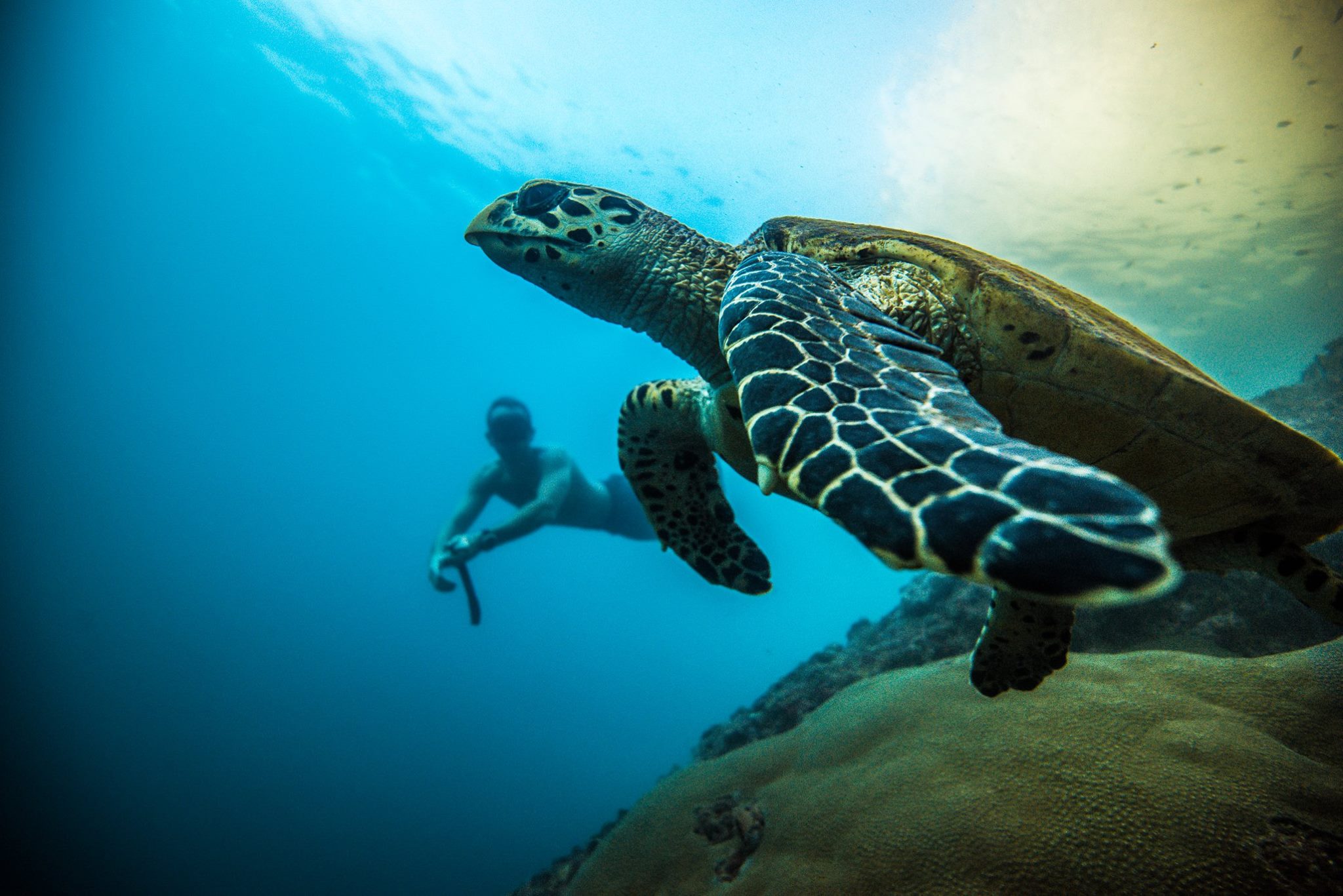 Let us tailor make your dive trip in Phi Phi! It is better to contact us and let us know your level of experience, your arrival date and time, and we will fix the perfect dive schedule for during your stay on the Island. No other shops have our variety of boats, trips and dive sites. Don't miss the best possible diving in Phi Phi!